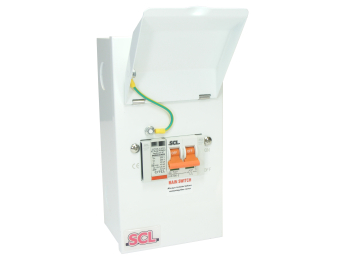 ENCLOSED 1PH SPD 230/400V 40KA + 2P 100A MAIN SWITCH
Stock Code: ESPD-1002P
£
52.21
(exc VAT) Each
Includes your 40% Disc
Out of Stock
The SCL Surge Shield - ESPD-1002P from Switchtec offers a complete 18th Edition compliant surge protection solution.Pre-Wired and designed for new installations or upgrades to existing TT-TN networks. The SCL Surge Shield provides surge protection up to a maximum discharge current (Imax) of 40kA.
Developed in partnership with Surge Protection Device manufacturer; Citel, France. A world leading SPD manufacturer since 1944, the SCL Surge Shield offers Type 2 surge protection which complies with IEC 61643-11.


Mounted alongside a 100A 2 Pole isolator switch allowing for circuit disconnection for module replacement and maintenance.


| | |
| --- | --- |
| Temporary Over Voltage (TOV) - 5 sec. | 335VAC Withstand |
| Protection Level | 1.25kV |
| Network | 230V Single Phase |
| Features | Pre-prepared knockouts, internally linked, RAL7032 fire resistant steel distribution box |
| Remote Signal? | Yes |
| Max. Discharge Current - max withstand @ 8/20 ? by pole | 40kA |
| Nominal Discharge Current - 15 x 8/20 ?s impulses | 20kA |
| Max. AC Operating Voltage | 255VAC |
| Number of Protected Poles | Single Phase |
| Type | 2 |
| Additional Features | 100A 2 Pole Main Switch for added safety requirements |
| Dimensions (mm) | 238x125x102mm |
| Approvals | CE, TUV, EAC, RoHS |